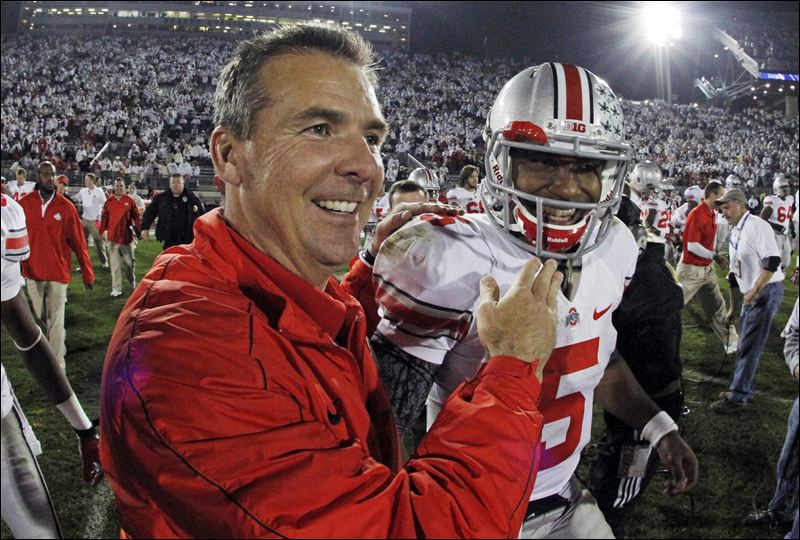 Last night the college football season initiated the 2013 campaign.  Ranked teams South Carolina and USC already claimed their first victims of the season with victories.  This season has a little uncertainty around it when it comes to deciphering who is the best team.  On Thursday we got a pretty good look at one of those teams in South Carolina.  But are the Gamecocks and the "Ole Ball Coach" the best?
As a tribute to the new season I have ranked the 7 best teams in the country for Sports Traveler's 2013 College Football Power Rankings.  Spoiler Alert:  This list contains mostly SEC teams, as you can imagine.  Alabama seeks its third straight national championship and there are a few teams around the country that have the talent to knock them off the mountain.  But it will most likely still be another SEC team.
2013 College Football Power Rankings:  Week 1
| | | |
| --- | --- | --- |
| Rank | AP | USA Today |
| 1. Ohio State | 2 | 2 |
| 2. Alabama | 1 | 1 |
| 3. Stanford | 4 | 4 |
| 4. South Carolina | 6 | 7 |
| 5. Georgia | 5 | 5 |
| 6. Texas A&M | 7 | 6 |
| 7. Oregon | 3 | 3 |
Ohio State:  The Buckeyes ran the table the last year and went 12-0.  Only problem was it was basically for nothing with sanctions preventing them from participating in postseason play.  They sit at #1 in the power rankings because this team showed a lot of character by winning when it didn't matter.  Kudos to Urban Meyer and a great coaching job.  With a weak out of conference schedule, they have a great shot to go undefeated again.
Alabama:  The Tide have won 3 of the last 4 championships and for most people they will be #1 until someone knocks them down.  The team is down in talent this year but that doesn't mean they don't have the most talent in football.  That just goes to show you how good these guys are every year.  The SEC is so tough and think it will be hard for Alabama or anyone to go through SEC with an unblemished record.
Stanford:  The Cardinal looks to be another team that can compete for the national championship.  The last half of the season will ultimate dictate the championship potential for this team.  5 of their last 6 opponents are starting off the season ranked, (UCLA, Oregon State, Oregon, USC, Notre Dame) in that order.  The good news is that only 2 of those games will be on the road (Oregon State, USC).

South Carolina:  Already 1-0, Steve Spurrier has this SEC team ready for a championship run in 2013.  Defensive standout Jadaveon Clowney leads the team in star power and talent but this team is talented across the board.  They handled North Carolina in their first game and the Tarheels received several votes in the polls this week.  Without any eye-popping numbers the Gamecocks dominated the Tarheels.  This team probably has the easiest SEC schedule of any team on this list.

Georgia:  The Bulldogs are another SEC team with a favorable conference schedule.  Last year many people thought Georgia could be the best team.  Not much changes in 2013.  I think some people could make an argument for this team to be the best but they always seem to lose the big game.  Every year it seems Georgia is right there at the end of the season and they lose in the most critical games.  They have the talent to be the best but they have to get over that hump.

Texas A&M:  Regardless how good this team is we will be hearing about them all year.  Thanks to college football primadonna Johnny "Football" Manziel.  This team is lucky the returning Heisman winner didn't receive a more harsh punishment for his off the field activities.  Lets just say that decision is a little suspicious since the NCAA probably has enough on him to suspend him for the whole year.  In a uncertain year, I think the NCAA needs Manziel to be on the field.  I agree but it doesn't make it fair to every other player.  It will be hard to ignore this team and their talent.  With Manziel for the whole year, this team definitely has a shot to contend for the national championship.

Oregon:  The Ducks have a lot of talent but they lost their general over the off-season.  I have a hard time believing Oregon can keep pace after losing Chip Kelly but talent can carry a team in college.  There is no doubt that Oregon may be the fastest and most athletic but it will come down to their discipline.  Oregon has a comparatively easy schedule this year and the biggest bump in the road will come against Stanford in November.
That does it for the first College Football Power Rankings of 2013.  More to come on college football in a few weeks so stay tuned.
Feedback:
Do you agree with these rankings?  Let me know what you think.