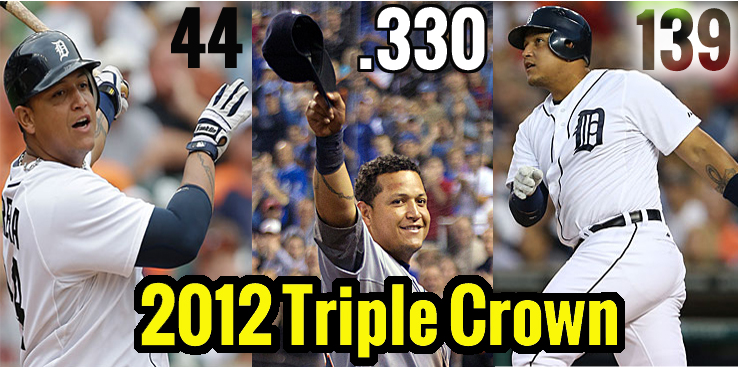 Well that was quite a season folks.  Yesterday marked the end to 2012 MLB regular season and it seemed like history was being made all over the place.  The two individuals who lead the way with historical accomplishments were Mike Trout and triple crown winner Miguel Carbrera.  Both of these players had outstanding seasons and figure to be the only 2 competing for the AL MVP award.  Before I get into to Cabrera's triple crown feat, I just want to briefly list off the highlights of Mike Trout's season.
Mike Trout (2012)
R - 129
H - 182
HR - 30
RBI - 83
SB - 49
AVG - .326
OBP - .399
OPS - .963
- Set AL rookie record with 14 straight games with a run.
- Youngest player to hit 20 HR's and steal 40 bases.
- Set Angels record for most runs in a season.
- Fourth rookie in baseball history to record 120 runs.
- Set Angels rookie record for most hits.
- First rookie ever to hit 30 HR's and steal 40 bases.
- Youngest player to join 30-30 club.
It is hard to ignore what Mike Trout has been able to accomplish at the age of 21.  He has been one of the best players in the game this season and he is still getting better.  Not since 2001 has there been a rookie who has had so much impact on his team's success.  Trout's WAR this season was a remarkable 10.7.  The next highest WAR was from Robinson Cano at 8.2.  I can't say enough about about Trout and I can't wait to see how the rest of his career turns out.
Triple Crown
Trout has been incredible but Cabrera has had a season for the ages.  We were robbed of triple crown in horse racing this year so Miguel took it upon himself to carry the triple crown distinction.  Not since 1967 (Carl Yastrzemski) has a player won the offensive triple crown.  It has been so rare over the last half century that it seems we are having a hard time figuring out how to celebrate it.  It is hard to measure such an amazing accomplishment.  Cabrera finished the season at the top of the list in average (.330), RBI (139), and HR's (44).  He was the sole leader in each category.  He beat out the aforementioned Mike Trout by 4 points in average, and topped Josh Hamilton by 1 HR and 11 RBI.  Cabrera came just 6 points short of leading the MLB in average but did lead all of baseball in RBI's and HR's.  The last player to lead all of baseball in the three triple crown categories was Mickey Mantle in 1956.
Side Note:  There were 6 players in the NL who finished with a higher average than Yastrzemski when he won his triple crown.  Yastrzemski also tied for the HR lead with Harmon Killebrew at 44, same total as Carbrera.
Season in Review
So much happened this year that you could write a short novel on the happenings of the 2012 MLB regular season.  I don't have that much space or time so I will keep it short.  I present the bullet point version of MLB 2012.
7 No Hitters  (only third time in baseball history: 1884, 1990, 1991)
3 Perfect Games  (only time in baseball history)
Seattle Mariners were a part of 3 of the No Hitters
Washington Nationals finish with best record in MLB (98-64)
Oakland Athletics overcome 13 game deficit in AL West
Miguel Cabrera wins triple crown
Mike Trout rattles off one of the best rookie seasons ever
NL batting champ Melky Cabrera tests postive for PED's
Chipper Jones plays his final game of a HOF career
Sorry if I missed anything that you feel is too special to not mention but I wanted to keep things quick and easy.  In addition, I would like to expand on the season by the Oakland Athletics.  The A's were 37-42 on June 30 and trailed the division leading Texas Rangers by 13 games at that point.  Then the A's went 57-27 over their remaining 84 games on their way to claiming the AL West title on the final day of the regular season.  The incredible part of their division winning season is how they did it.  They did not have a hitter over .300.  Yoenis Cespedes was the team leader in average at .292 and he would be the ROY if it wasn't for Mike Trout.  Furthermore, the A's did not have anyone with 100 RBI and only 2 players finished with more than 80.  Cespedes finished second on the team with 82 and the next hitter only registered 52.  The A's also failed to have any player reach 100 runs scored.
Josh Reddick led the team in HR's, RBI, and AB's.  He tallied 611 AB's and the next player on the list only recorded 487.  On that same note, they also ony had 3 players with 100 hits and not one player hit 30 doubles this season.  Now this doesn't sound like a team with 94 wins... does it?  Well let me also mention that they sported the second best ERA in the AL at 3.48.  Pitching, as it always does, really helped this team win the division along with timely hitting.  The team also faced several injuries and everyone they plugged into the system just seemed to work out.  At first they just seemed lucky but now they are confident.  Look out for the A's in the postseason.
2012 Awards (in my opinion)
| | | |
| --- | --- | --- |
| Award | AL | NL |
| Gold Glove 1B | Mark Texeira | Adam LaRoche |
| Gold Glove 2B | Dustin Pedroia | Darwin Barney |
| Gold Glove SS | J.J. Hardy | Jose Reyes |
| Gold Glove 3B | Adrian Beltre | Chase Headley |
| Gold Glove LF | Alex Gordon | Alfonso Soriano |
| Gold Glove CF | Curtis Granderson | Andrew McCutchen |
| Gold Glove RF | Jeff Francoeur | Jason Heyward |
| Gold Glove C | Yadier Molina | Matt Wieters |
| Gold Glove P | Hiroki Kuroda | Mark Buehrle |
| MVP | Miguel Carbrera | Buster Posey |
| ROY | Mike Trout | Bryce Harper |
| SY | David Price | R.A. Dickey |
| Comeback POY | Adam Dunn | Buster Posey |
| MOY | Buck Showalter | Davey Johnson |
2012 Playoffs
Postseason baseball begins tomorrow on TBS.  The first game is scheduled for a 5:07 ET first pitch.  The early game features the two NL wild card winners in the Atlanta Braves and St. Louis Cardinals.  An interesting match-up between 2 teams on opposite ends of fortune in 2011.  Braves had an incredible collapse to lose their wild card spot to the Cardinals who eventually won the World Series.
The second game is scheduled to get going at 8:37 ET.  This AL Wild Card game is another good one between back-to-back AL Champion Texas Rangers and the surprising Baltimore Orioles.  The Rangers need to get it together quickly after surrendering a 13 game lead in the AL West to the A's.  The O's are just looking to continue a great run in 2012 and Buck Showalter is seemingly a lock for Manager of the Year.
I would like to take this time to make a toast to the 2012 MLB regular season.  Thank you baseball for continuing to prove why this sport is so great.  Over 100 years of play and thousands upon thousands of games, and we still see things we have never seen before.  Stayed tuned for the 2012 MLB Playoffs!
Written by: Craig Kibler