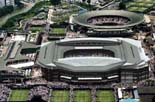 Yesterday's epic match between Rodger Federer and Andy Roddick was one for the ages. Both Rodger and Andy will be returning to Wimbledon in 2010. Now you can book next year's trip today at this year's prices and guarantee your spot!
View 2010 Wimbledon Travel Packages
These packages are the way to travel to the 2010 Wimbledon Tennis Championships. Everything is taken care of including your tickets, transportation to the matches, lodging, and most importantly - an onsite host to assist you throughout your stay!
Choose a Semi-Final or Finals package and see the Men's, Ladies, and the Doubles on Centre Court. PLUS Exclusive Membership to The Gatsby Club for two days for VIP hospitality including a cocktail and canapé reception, á la carte lunch with fine wines, traditional Wimbledon afternoon tea, and a complimentary bar including champagne throughout the day!
This is a limited time offer. Start your planning today! View our complete 2010 Wimbledon Travel Package Options
- anbritt