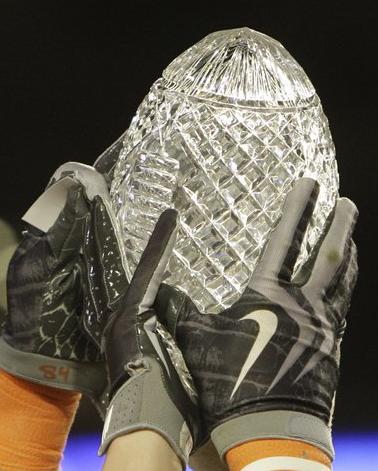 The first BCS standings of the 2011 college football season were released this past Sunday!  Speculation has already began for millions of college football fans across the country, however there really aren't any surprises in the initial BCS standings.  LSU(1) and Alabama(2) are sitting in the top 2 spots with Oklahoma not far behind in third.  There is a bit off a drop off to fourth but Oklahoma State is basically in the same position as any of the top 8 teams.  Of those eight teams (LSU, Alabama, Oklahoma, Oklahoma St., Boise St., Wisconsin, Stanford, & Clemson), Boise State probably faces the toughest battle to get to the BCS Championship game.  Same tune different year for the Broncos but their schedule is really just second or third rate compared to the rest of the title contenders.  The dark horse National Champion from this group is most likely Wisconsin.  The Badgers are beating opponents by an average of 40 points a game.  They are the class of the Big 10 this year and are the strong favorites at this point to win the first ever Big 10 Championship game.
It is currently safe to say that all of these teams are on schedule to be playing in a BCS bowl game but the current standings suggest that the BCS championship will likely feature the winner of the SEC vs. the winner of the Big XII.  LSU and Alabama will clash helmets in a few weeks in Tuscaloosa and Oklahoma will take on the Cowboys of Oklahoma State in the Bedlem Series rivalry game on December 3.  As the standings show now, the respective winners of these games will have the best shot of getting a bid for the BCS championship.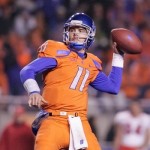 Lucky for the fans there is still a lot of football left to be played so anything can still happen at this point.  The next few weeks will begin to paint the rest of the BCS picture.  When your team clinches a BCS bowl bid look to  Sports Traveler for your trip to Glendale, New Orleans, Pasadena, or Miami!  We currently have tickets and travel packages available for all BCS bowl games.  Our fully accommodating travel packages can include tickets to a BCS bowl game, tickets to the Rose Parade (Rose Bowl Only), comfortable lodging in the host city, delicious daily breakfast, airport transfers, and so much more.  Purchase your game tickets and travel packages from your best resource for sports travel!
Written by: Craig Kibler