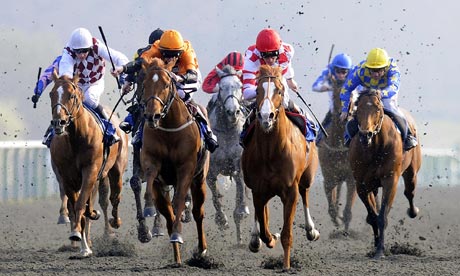 Louisville, KY has been the home to the premiere North-American horse race for well over a century and the tradition continues in 2013.  This year the Kentucky Derby will be held on Saturday, May 4th.  It is also important to note that the Kentucky Oaks will take place on Friday, May 3 as a precursor to the Kentucky Derby.  Doesn't it seem hard to believe that we are just a few months away from the running of the first leg of the horse racing triple crown?
There will much anticipation for the 2013 edition of the Kentucky Derby after the run by I'll Have Another in 2012.  I'll Have Another swept through the first 2 legs of the triple crown but had to pull out of the Belmont Stakes at the last minute.  It seemed hard to think that we wouldn't have a triple crown in 2012 but fate directed us down another path.  Our desires for a triple crown winner were teased to the point of aggravation.  I can't speak for everyone but I know myself and others close to me were very disappointed in the busted triple crown opportunity.  I know that year to year the Derby and the triple crown races share no common thread but I can't help but get excited for another prospective year for the triple crown.  It would seem only fitting after Detroit Tigers third baseman Miguel Carbera won baseball's triple crown for the first time since 1967.
Early Action
It may only be January but many horse racing enthusiasts are already thinking about the 2013 Kentucky Derby.  The road to Churchill Downs began this past weekend with the running of the Sham Stakes and the Jerome Stakes.  The Sham Stakes was hosted by Santa Anita Park in California and the Jerome Stakes were held at Aqueduct Racetrack in New York.  The winners of these two early races were Goldencents (Sham) and Vyjack (Jerome).  According to Jeff Frank of the Sports Network, both of these horses are considered possible contenders for the Kentucky Derby crown.
Frank then goes on to declare which 10 horses have the best chance to be the 2013 Kentucky Derby winner.  The horses rank as follows:
1. Golden Soul
2. Avie's Quality
3. Mountain Eagle
4. Normandy Invasion
5. Violence
6. Declan's Warrior
7. Uncaptured
8. Flashback
9. Overanalyze
10. Frac Daddy
Look out for these names over the next few months as we approach Derby time.  I think my favorite name on this list is Frac Daddy.  Not sure what the reference or meaning is but it just sounds majestic yet cool.  It is safe to say that I'll be rooting for Frac Daddy to make the short list of Derby contenders.  Stay tuned for our next Kentucky Derby blog which will be released after all participants have been named for the 2013 Kentucky Derby.
Written by: Craig Kibler