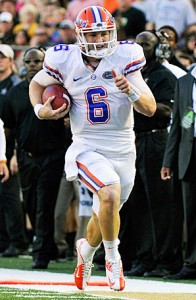 So it might be a little early but I think its time to start looking at the legitimate contenders as we have reached the half way point of the college football season.  As for the usual the SEC has a strong presence in the second edition of the BCS standings in 2012.  The SEC currently has 4 teams in the BCS top 10 and 7 in the top 25.  Most college football experts say the path to the national championship is through the SEC and this year is no exception.
Current 2012 BCS Standings
1.  Alabama
2.  Florida
3.  Oregon
4.  Kansas State
5.  Notre Dame
6.  LSU
7.  South Carolina
8.  Oregon State
9.  Oklahoma
10.  USC
Alabama looks very good again but their toughest road lies ahead with games remaining against ranked opponents LSU, Mississippi State, and Texas A & M.  With six regular season games remaining in the SEC, there is still a lot to be decided and things could look a lot different in the coming weeks.  Hard to say which SEC team will make the national championship but I'm certain someone from the SEC will be represented in Miami.  Honestly its too hard to even guess who will be playing in the SEC Championship game at this point.  A lot of parody in college football this year and I like it.
Surprises!?
Early on it seemed like we would be destined to see USC and LSU or Alabama in the BCS Championship game.  However, early losses to both LSU and USC decreased those chances.  Furthermore, I did not have Florida playing this well this season but Will Muschamp has his guys playing great in Gainesville.  Big test for the Gators this weekend as they travel to South Carolina to face the Gamecocks in what looks to be the most important game of the season for either team.  Florida looking to possibly be number 1 and South Carolina looking to solidify themselves as a continued threat to the national championship after a 2 point loss to LSU last weekend.  Florida is certainly my surprise team of the year but it was a hard choice between the Gators and Notre Dame.
The history of Notre Dame football is neither questioned or forgotten but the reality is the team has struggled to be relevant in national championship conversation since Brady Quinn was at quarterback.  The Fighting Irish now find themselves in the top 5 and have yet to surrender a loss.
I was sure Notre Dame would be better this year but I did not anticipate an undefeated season at the midpoint of the season.  Give Brian Kelly a lot of credit for getting that team ready to compete this year.  The coaching carousel that is the Notre Dame head coach position has found a stable source of wins.  Still a long way to go but this could mark the turning point of the current Notre Dame football program.  Will they return to dominance?  Not yet, but they are getting there.
Heisman Watch
My mid-season Heisman goes to West Virginia QB Geno Smith.  Smith has been dazzling thus far and I don't see his pace slowing.  Big measuring stick game this weekend for Smith as the 5-1 Mountaineers host the fourth ranked Wildcats from Kansas State.  Smith will try to match the efforts of fellow Heisman QB candidate Collin Klein.  Big contrast in Klein and Smith but there is no doubt that these two are invaluable to their team's success.  The game this weekend could be a launch pad for the Heisman campaign of one of these star players.
Written by: Craig Kibler