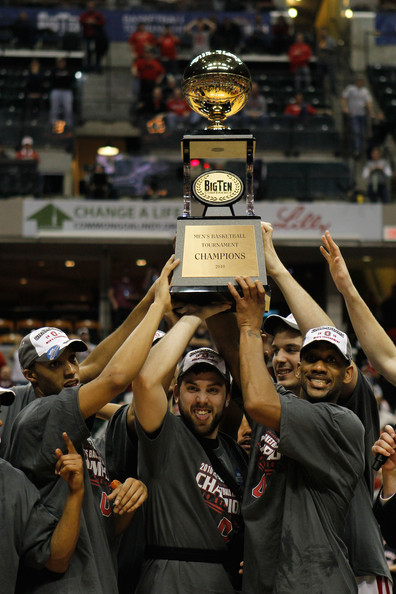 Bracket buster match-ups are already happening throughout college hoops as teams across the country prepare to make their run to the NCAA tournament.  This is the "make or break" point in the season and everyone knows it.  At the moment there are only a few teams in college basketball who have safely cemented their ticket to the "Big Dance".  These teams will be your major conference leaders and basically any team ranked in a top 25 poll.  Being in the top 25 doesn't always guarantee a spot in the tournament but this year it appears that all of the top 25 teams are tourney worthy.
NCAA Tournament Predictions:  If the tournament were to start today.  Excluding conference tournaments of course.
Here is the latest edition of Bracketology from Joe Lunardi at ESPN.com.
This a simply a rough draft of what the 2012 NCAA tournament will look like come selection Sunday.  However, Joe Lunardi has had incredible success with the formula that he uses to determine which teams make it and what their seed will be.  In 2011 Joe Lunardi correctly predicted 65 of the 68 tournament teams.  His accuracy when it comes to seeding is shaky but after the number 1's it becomes very hard to predict seeds before conference tournaments are completed.
Getting wins against the RPI top 50 is really important down the stretch.  The selection committee has recently assigned more value to wins later in the season.  The argument here is that good teams are usually playing at their appropriate level more consistently later on in the season.
Conference Outlook:
According to ESPN.com's recent article,  there are only 11 teams from the major conference that are locks for the NCAA tournament.  We still have a long way to go but this number seems pretty low, which means there is still a lot up in the air at this point in the season.  Even more surprising is that the Pac 12 doesn't really have a for sure at large bid.
With so much yet to be determined there are several teams around the country that are in the bubble area.  For some schools the bubble sounds like a good place to be but for several big schools this is an area that you want to avoid.
*Case 'N Point:  Take a look at the University of Illinois.  Before their sloppy victory at home against Michigan St. this week, the Fighting Illini had lost 3 straight to unranked opponents.  The Illini have been featured in the top 25 for 3 weeks during the 2011-12 season and harbor a lot of talent, but their inconsistency could cost them a trip to the NCAA tournament despite having 3 wins against teams in the RPI top 25 (2 in the top 5).  Just because it looks like you should be in the tournament does not mean the selection committee will grant you access.
Luckily for teams like Illinois, and others in worse situations,  you could theoretically lose every regular season game and win your conference tournament and make it to the "Big Dance".  Speaking of which, we are just over a month away from conference tournament play.  Hard to believe we have already broken into February but its here folks and soon the excitement of tournament play will be too.  College basketball is deep this year which should provide a very entertaining March.  Syracuse still looks like the team to beat and according to ESPN.com, Orange center Fab Melo will be returning to the team very soon.  Schools like Kentucky, Duke, UNC, and OSU also have a great shot at bringing home the national championship.  I think Kentucky probably has the most talent in the country but Syracuse has better team chemistry and I think the Bernie Fine scandal has only strengthened their resolve.  Could be a great story for Jim Boeheim and Syracuse if the Hall Of Fame coach leads them to a Final Four victory this season.
*Crazy Stat: Since John Calipari took over as head coach of Kentucky the school has not lost at home. 48-0
Ticket & Travel Options for 2012 Conference Tournaments:
Tickets
Pac 12
SEC
Big 10
ACC
Big East   (All sessions only)
Big XII
Travel Packages
 Are you ready for the madness?
Written by: Craig Kibler