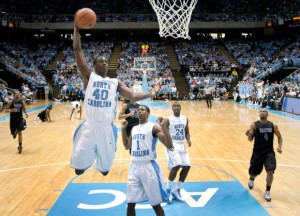 If you listen closely you can hear the faint sounds of squeaky sneakers and the roar of crazed student sections across America.  That's right folks, the magic of college basketball is almost upon us.  In a few short weeks college basketball programs around the country will be kicking off their season with "Midnight Madness" or some other version of.  The end of October always marks the beginning of college basketball and this year mighty carry more weight than years past.  The professional sector of basketball (NBA) is currently at an impasse in their labor agreements and face losing regular season games for 2011-12.  If the NBA continues the lockout, the college basketball season will have to fill a large void in the hearts of basketball fans everywhere.  But don't worry.  If this season is anything like last year then basketball enthusiasts can rest easy even if the NBA can't settle their CBA battle.
Remember this?
Although Kemba Walker has moved on to the NBA, the 2011 NCAA Champion UConn Huskies and several other tournament teams are stacked and ready for another good run in 2011-12.  According to preseason rankings by Yahoo, 6 of the Elite 8 schools from last year are ranked in the top 25 for 2011-12.  The University of North Carolina seems to be leading the charge in the way of talent this season.  Sophomore Harrison Barnes will look to put his mark on Tarheel history by trying to lead his team to another successful season in a very difficult conference.   Conference rival Duke and coach K will also be reloaded and looking strong enough to make a run at another Final Four appearance.
Outside of the ACC, the best national title threat probably comes from Columbus with the Buckeyes and Jared Sullinger.  Sullinger will also be an individual threat for national POY and the Wooden award.  Overall the Big Ten could face a down year this upcoming season, but perennial Big Ten champion contender Wisconsin will have a a solid squad again with their own All-American candidate.  University of Wisconsin guard Jordan Taylor returns for his senior year in hopes to lead his Badger squad to the school's first Final Four since 2000.
In the SEC, both Florida and Kentucky will have talented rosters with a healthy blend of experience and skilled youth.  The Wildcats are returning a few keys players (Terrence Jones, Darius Miller, Doron Lamb) from their Final Four run of a year ago along with bringing in two highly touted freshman in Anthony Davis and Marquis Teague.  Both of Kentucky's upcoming freshman are projected to be first round draft picks.  Not bad for a recruiting class.  In Gainesville, Billy Donovan has a great back court returning and has an amazingly talented freshman Brad Beal coming in along with Rutgers transfer Mike Rosario.
NBA or o NBA this upcoming college basketball season should be a great one and Sports Traveler will have tickets available for all your favorite schools.  From the first regular season games, through the early tournaments, into conference play, and all the way through the NCAA tournament.  Travel to New Orleans for the 2012 Final Four with any of our travel packages that can include comfortable lodging, tickets to the Final Four, motor coach transportation to the games, daily breakfast, hospitality options, and much more!  Show your school spirit and purchase tickets or a travel package to any college basketball game this season.  When it comes to watching your favorite team, Sports Traveler is your best resource for sports travel.
Tickets & Travel Packages Are Available For Conference Tournaments!
Tickets & Travel Packages Are Available For All Regional Rounds Of The NCAA Tournament!
Written by: Craig Kibler